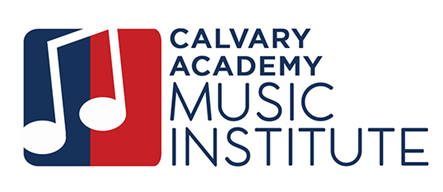 Calvary Academy Music Institute allows students to expand their musical horizons through private lessons. Our private music lessons offer an enjoyable, challenging learning environment where students are taught in an encouraging way that increases their desire to learn and succeed. Whether your student is beginning lessons or has been playing or singing for years, our teachers will work with him/her to build a solid foundation with proper techniques while advancing the skill level of your student.
We understand how busy lives can be and will work with you to find time around your student's schedules. If your student's class schedule allows, he or she may be able to receive lessons during normal school hours. Some teachers are members of the International Federation of Music Clubs which allows your student to perform in front of area teachers and earn recognition as they progress in the Federation.
Currently, the following lessons are offered:
Piano
Voice
Percussion
String intruments: Guitar, Bass Guitar, Banjo, Ukulele, Mandolin
Brass: Trumpet, Trombone, Tuba, French Horn
Woodwinds: Flute, Clarinet, Oboe, Saxophone
Books
Your student is responsible for the cost of books and/or music used during lessons.
Recitals
Your student is strongly encouraged to participate in both recitals hosted in the fall and spring of each year.
Events
Upon the teacher's discretion, your student may participate in the International Federation of Music Clubs. These performances take place in spring.
Age Minimums
Piano minimum - age 5
Voice minimum - age 5
Band instruments minimum - 3rd grade
Guitar/Ukulele minimum - 4th grade
Calvary Academy Music Institute lessons are not just for Calvary Academy students! Homeschool students, students from other schools, and adult students are welcome.
Please review the General Rules and Procedures before completing the online registration.
For more information, please contact CAMI Director, Laura Powell, at LPowell@CASpringfield.org.
Meet the CAMI Instructors
BETH ANDERSON
Beth has been a music educator for over 60 years. Her main instruments are woodwinds and piano. She has taught in a number of schools. She retired from the Hartsburg-Emden school district. Then she went on to teach in Illiopolis, Tri-City, and the Athens school districts since retirement, mainly doing beginning band. She is the pianist at Elkhart Methodist and the Mt. Pulaski Methodist Church. She lives near Cantrall where she teaches privately every day. She has four boys and lots of grandchildren which takes up the rest of her time.
ANGELA BLAKLEY
Angela has been teaching since she was fifteen. She began taking piano when she was in second grade, competed through Festival and Guild and other talent shows, and grew to accompany soloists and the choir in high school.
She first began teaching students from her home church in Pleasant Plains at the age of 15. Since then, through college and growing a family, Angela has developed her home studio, and now she also teaches at CAMI. Angela has been married to her husband Braden since 2007, and they have three children. In her free time, she enjoys reading, traveling, and being with her large extended family.
LAURA POWELL
Born and raised in a small Chicago suburb, Laura knew she wanted to become a professional singer or a music teacher, and she earned degrees for both career paths (Music Education and Vocal Performance, along with a minor in Flute Performance) from Illinois Wesleyan. When she graduated at the turn of the millennium, Calvary Academy needed a band, chorus, and general music teacher, and God led Laura to Springfield for that position where she worked for the next three and a half years. Wanting to start a family, Laura transitioned into being a private voice, piano and flute teacher, and she's been striving to do that well for the last twenty-three years.
In her younger days, she soaked up the stage performing in many musical theater productions in high school and college. At college, she was named the best voice teacher of her graduating pedagogy class and was named one of the top three classical singers in the tri-state area her senior year at the NATS competition. And as a classroom teacher, she was named to the IESA Music Committee for the state of Illinois. She loves God and children, and she strives to encourage and foster musical talent in each student. Now serving as the Calvary Academy Music Institute Director, her highest goals are to strengthen the program through good communication and innovation. Beyond teaching, Laura and her husband Dave have one son who is a senior at Calvary Academy, and a furry canine companion, Bentley, who loves food, on most days, more than people.
PAUL WALKER
Paul has attended Calvary Church for 50 years. When he was a teenager he played guitar for the teen group, the Calvary Temple Transitions. Also, Paul played guitar for twenty years with the Calvary Temple Praise and Worship team. He was a member of the orchestra in five Springfield Muni productions playing guitar, mandolin, and banjo. Besides teaching many guitar styles, Paul is available to teach bass guitar, banjo, mandolin, and ukulele.