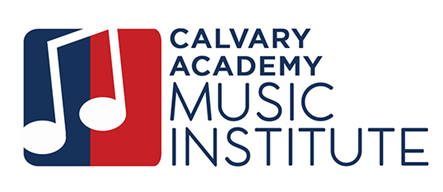 Calvary Academy Music Institute allows students to expand their musical horizons through private lessons. Our private music lessons offer an enjoyable, challenging learning environment where students are taught in an encouraging way that increases their desire to learn and succeed. Whether your student is beginning lessons or has been playing or singing for years, our teachers will work with him/her to build a solid foundation with proper techniques while advancing the skill level of your student.
We understand how busy lives can be and will work with you to find time around your student's schedules. If your student's class schedule allows, he or she may be able to receive lessons during normal school hours. Some teachers are members of the International Federation of Music Clubs which allows your student to perform in front of area teachers and earn recognition as they progress in the Federation.
Currently, the following lessons are offered:
Piano
Voice
Acting & Musical Theater
Percussion
String intruments: Guitar, Banjo, Ukulele, Mandolin
Brass: Trumpet, Trombone, Tuba, French Horn
Woodwinds: Flute, Clarinet, Oboe, Saxophone
Books
Your student is responsible for the cost of books and/or music used during lessons.
Recitals
Your student is strongly encouraged to participate in both recitals hosted in the fall and spring of each year.
Events
Upon the teacher's discretion, your student may participate in the International Federation of Music Clubs. These performances take place in spring.
Age Minimums
Piano minimum - age 5
Voice minimum - age 5
Band instruments minimum - 3rd grade
Guitar minimum - 2nd grade
Calvary Academy Music Institute lessons are not just for Calvary Academy students! Homeschool students, students from other schools, and adult students are welcome.
Please review the General Rules and Procedures before completing the online registration.
For more information, please contact CAMI Director, Laura Powell, at LPowell@CASpringfield.org.